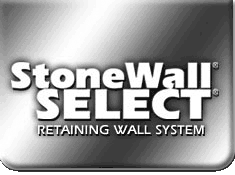 StoneWall Select: Features
Retaining Perfect Proportions
No matter how big the demands of your retaining wall projects, StoneWall SELECT® provides the perfect fit.
StoneWall SELECT retaining walls can rise as high as 40 feet, with the ability to support substantial surcharges, and maintain a look that's always perfectly proportioned.
StoneWall SELECT's natural stone beauty never appears too large or too small for the site. It's dual level split face and random texture complement walls of any shape or size - without the overpowering "stacked tire" look or the monotony of straight split face.
Each StoneWall SELECT unit's built-in balance and molded gripping surfaces allow for easy handling by one person.
The built-in cable slots allow for quick and easy installation of NatureWall irrigation systems, low-voltage lighting, communication, or security cables. • Simply perfect.