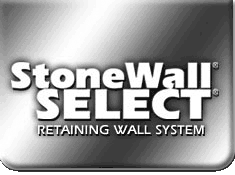 Newcroft is a tumbled, multi-colored retaining wall system with a uniquely warm, hand-quarried look. The unique, multiple depth face naturally sets Newcroft apart from other tumbled units.
Not just beautiful, Newcroft is also an innovative, versatile retaining wall system created to solve design and installation problems with other products. It's another perfectly proportioned product from ICD Corporation.
Attractive, lightweight, and easy to handle and install, The Newcroft System provides strength, stability and beauty in retaining walls up to 6' high.