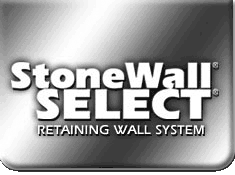 Features
Stackable blocks go up fast and easy, lock in place with tough glassfilled polymer pins.
Solves design problems quickly, easily and attractively, for a consistent, natural looking wall. Virtually unlimited options, including straight walls, angles, serpentine structures and circles.
Unique, elegant look. 2 different shapes, 3 different depths provide the texture for the look of "hand-quarried" natural stone.
Easy to handle. 50% lighter than full-size SRWs; no unit fill required; all the wall units you need are together on one pallet.
Fast, easy, simple to install. Scored guidelines on blocks ensure proper alignment while maintaining the random surface texture. Minimum excavation and backfilling. Great connection with geogrids for strong, stable low and medium height walls.