Dan Punko enthusiastically added, "I told Joe to put together the best plan you can for our site and select the best products. Apparently Joe thought, and I have to concur, that StoneWall SELECT was the best product. We went through a number of revisions due to the architectural committee requiring that retaining walls not exceed 5 feet. All the plans that Joe put together were spectacular."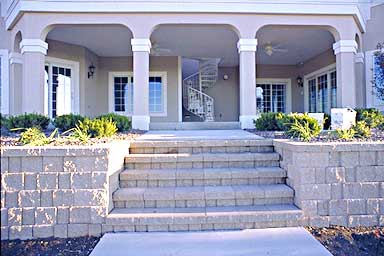 StoneWall SELECT steps, and 90 degree corners, form an impeccable transition between the architecture and the landscape
"StoneWall SELECT just finishes up better." says Joe, adding that "We started using concrete masonry unit retaining wall systems in 1989. We've done a few projects using KeyStone, and Versalok but really prefer using StoneWall SELECT. If someone demands that we use KeyStone, we have to add 25% to the project cost."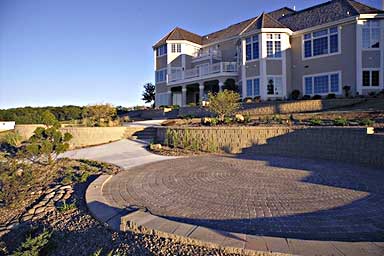 Joe designed two lovely patios, using brick pavers, laid in concentric circles, which blend beautifully with both inside and outside radii of StoneWall SELECT. And you'll notice Vice President, Dee Dee McMullen's all important "finishing touches of stone, boulder and plant accents which tie it all together."
Finally, Joe went on to state, "This product sells itself. Over the years Bob Dean, at ICD Corp, has refined their product, making little changes here and there which have resulted in a retaining wall system which is a pleasure to install. The system lets us produce any kind of wall we want. It goes up fast and looks great. This project has brought us 12 or 13 more projects at Bristlecone Pines, alone. We're working on a home, across the street, with even higher walls than the Punko residence."