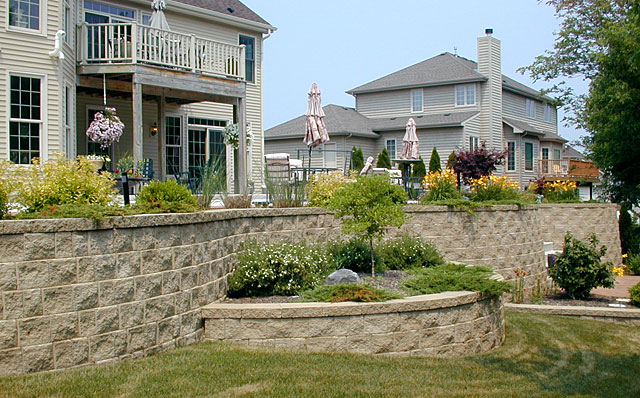 Mike Pirk says, "We're delighted with the way things worked out. We use our patios all the time, and we entertain there. The color and the proportion are just right. It's even better than we had hoped."
The problem:
The family room in Mike and Sherry Pirk's handsome new home opened onto a back yard with a dramatic view, but with a slope so steep it severely limited their ability to use the yard. Some joked it would make a great sledding hill.
The Pirks' house is sited near the highest point of a lot that drops 30' from the street to the back of the lot, with a 12:1 grade and a pronounced west-to-east side slope. It was a developer's show house in a new subdivision near Racine, Wisconsin. Much of the subdivision drains to the Root River, ¼ mile away, causing steep slopes in many yards.
The developer's original landscaping was minimal: a rough-seeded lawn and a few small trees. Near the house four small planting areas (two on each side of the house) were formed by retaining walls of 12"-15" boulders.
The walls looked nice, but the slope was so steep the boulders frequently rolled down to the bottom of the hill. Mike Pirk trudged to the bottom of the hill, lugged them back up and replaced them. Then, all too soon, he had to do it all over again.
The Pirks loved their house, and wanted to enjoy their yard, relaxing and entertaining family and friends. Mike envisioned a large patio across the back of the house. Sherry wanted a smaller, more secluded area below for sunbathing and reading. Both wanted plenty of plantings for color, texture and privacy.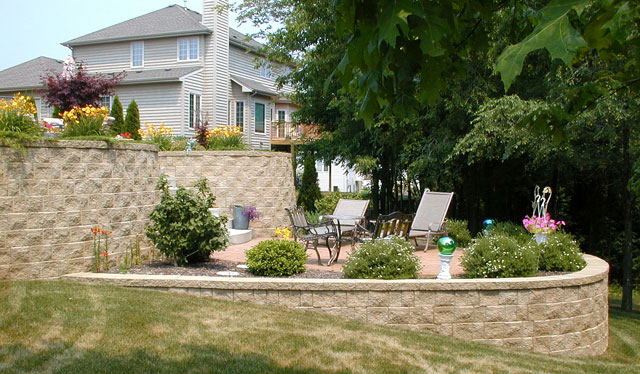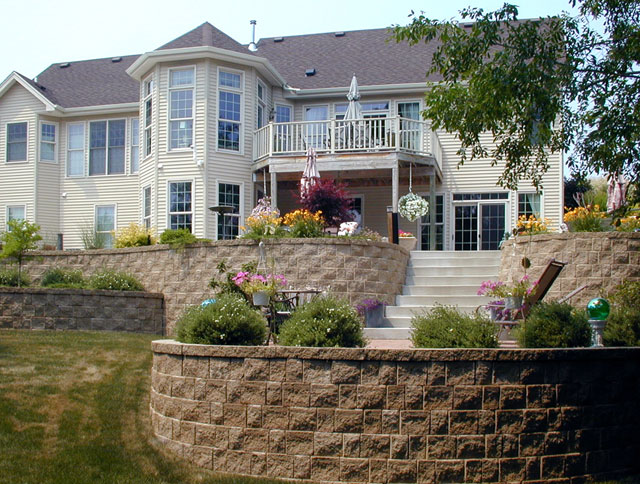 Seeking a solution
One of the customers of Mike's trailer sales business, Scott Urban, owner of Urban Concrete (also Racine), suggested a collaborative relationship with Mike Dresen, owner of Dresen Landscape Contractors, of Racine. Dresen is an experienced contractor, with over twenty years in the landscaping business. He has run Dresen Landscape Contractors since 1996.
Dresen and Urban Concrete worked closely with the Pirks' on every detail of the project. Dresen handled design and landscaping, with Urban Concrete handling the extensive concrete work.
Dresen says the job was big and complex with plenty of structural and design challenges. The yard's steepness created complex excavating, drainage and construction issues, including slope stabilization, hydrostatic pressure and frost heaving.
Rainwater drainage and heavy outflows from several downspouts made it important to carry water away from the house, the patio and supporting retaining walls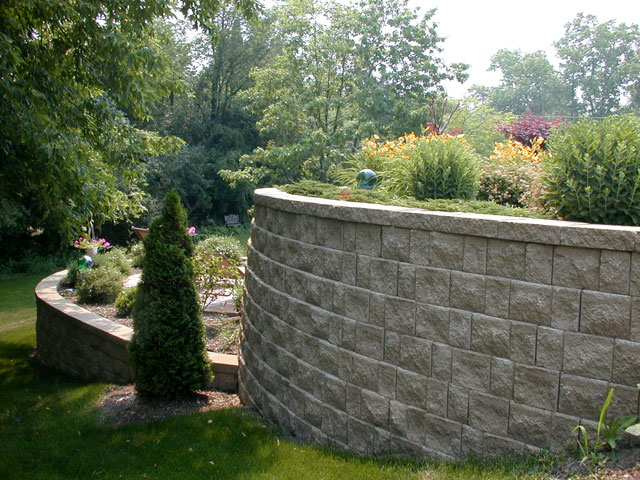 Finding the answers
Dresen found the complexity of the project daunting at first. Then everything fell into place and he quickly produced an elegant design that addressed all the issues. The Pirks gave it their blessing.
Dresen's plan revolved around four terraced segmental retaining walls (SRWs). Two supported a large poured concrete patio. Two more supported a smaller patio and a planting bed. The lower walls served as terraces, creating an installation with a more pleasing scale and eliminating the need for tall, massive walls. At the same time they buttressed and strengthened the walls supporting the large patio.
SRWs recommended
Dresen favored SRWs over poured concrete walls. He figured an SRW would cost half as much, be more eye-pleasing, and last a lot longer. "They're easier and less expensive to build, and they retain their structural integrity longer," he says.
Dresen explains poured concrete walls are rigid and don't flex with hydrostatic pressure and frost. Once damage occurs (and it will occur eventually, Dresen says) repairs range from "very expensive to impossible."
He says SRWs are designed to flex with the soils' movement, and then return to their original shape, minimizing problems.
Dresen recommended the StoneWall® SELECT® SRW system from ICD Corporation, Milwaukee, WI. Many of his 100+ walls have used this system, and he knew a StoneWall SELECT wall would be attractive, strong, stable and long-lasting. "Strength and stability always come first," he says, "pretty, weak walls serve neither the contractor nor the homeowner." Other key factors included:
Eye appeal. The less massive proportions, "natural stone" look and color options of StoneWall SELECT would create a more pleasing look. "Proportion is really important in large walls or they begin to look like fortifications," Dresen says.
Easy installation. StoneWall SELECT blocks are high-strength; stackable mortarless blocks that don't require elaborate footings or foundations. Multiple courses of blocks snap together quickly and securely with a unique clip-positioning system that assures strength and flexibility with a built-in .75" set-back and 5 degree wall batter. "A skilled crew can put up a strong wall amazingly quickly," according to Dresen.
Curvilinear walls. The StoneWall SELECT system is flexible in building a variety of curves and shapes. It allowed Dresen to design gracefully rounded and serpentine walls, with scarcely a straight line anywhere.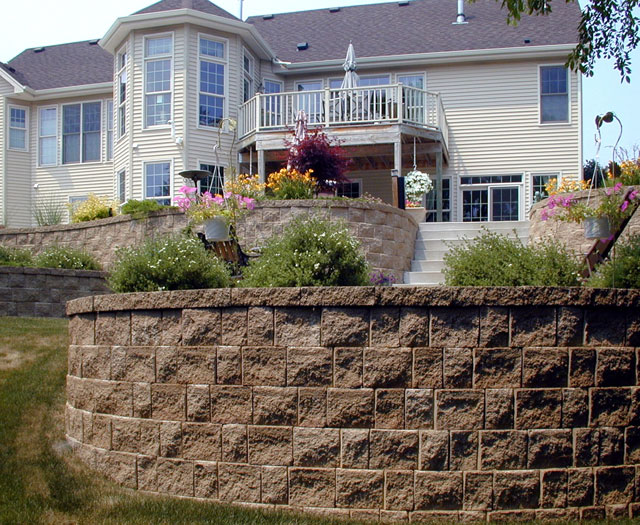 Construction.

Construction began with the round lower patio and nearby planting bed. Construction had to be staged carefully; equipment access and working room were limited.

The slope was excavated back 5'-6' from the walls' bases, and solids removed. Dresen's crew tightly tamped down a foundation of ¾" stone, creating a solid base that would have little settling. This was followed by an 18" wide layer of crushed limestone with perforated drain tile, to assure good drainage and soil for plantings. Filter fabric was used to keep soil fines from settling into the wall.

Above the lower patio and planting bed, concrete steps run up to a sinuously curved 85' x 30' poured concrete patio. Two SRWs, divided by the steps, support the patio. The curved east wall is 48' long by 6' tall. The 60' serpentine wall west of the steps is 5' tall. Walls were placed to allow an 18" area for plantings between the patio and the walls.

Both walls are reinforced by layers of geogrids. Dresen says use of geogrids was essential in walls because of the strength and stability it provides.

Excavating, building the walls and backfilling took 2-1/2 weeks. With sodding, planting and other landscaping chores, Dresen's crew was onsite about a month. Dresen says a less skilled crew might have taken a lot longer; "I'm fortunate to have experienced guys who know how to build walls and handle every aspect of the job correctly."

The Pirks were delighted, and asked Dresen to add four smaller SRWs to replace the original boulder walls, a job that dovetailed nicely with completion of the original job.

After the job was completed, the Pirks called Dresen back. Not to fix a problem, but to add a ninth wall in the front yard which would mitigate some of the yard's slope and provide an attractive setting for a tree and other plantings.

Dresen says landscaping and wall projects get larger and more complex every year. "Each job you do well serves as a reference that helps to sell other jobs. Landscaping, and especially walls, is definitely a referral business. Everyone you work for seems to know someone else who needs a wall, so one successful job leads to another."