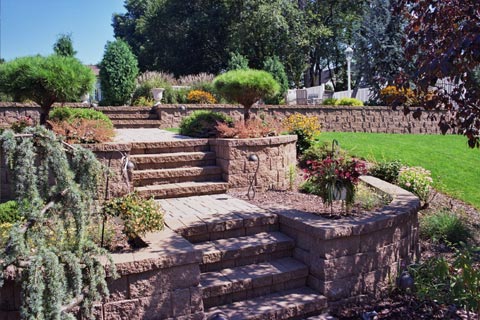 Vickie says "Every day I feel as though I'm walking into Disney World."
Joe, a self-proclaimed "fussy guy" describes it as "terrific" and "100% worth the effort."
Northumberland, PA. One sunny February day, Vickie Hayter of Northumberland told her husband Joe she'd like an in-ground pool in their yard, like she'd had at her old house. Joe agreed, a decision he later came to regret.
When the pool was installed, unforeseen issues clouded their joy. A steep 8'-10' slope in their back yard and problems with stormwater run-off from a street and vacant property above hadn't been adequately planned for by the pool installer. The pool was supposed to be in-ground, with a generous apron and patio. Instead the Hayters found much of the pool would be 3' above grade, without support for the patio. Joe Hayter wondered if it would just collapse some day. According to Vickie and Joe Hayter, "there were times we wished we'd never gotten into this."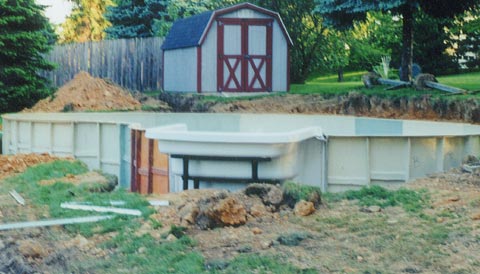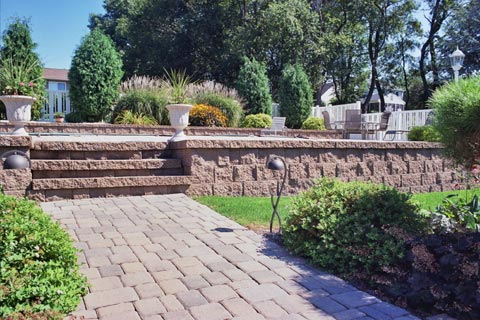 One day A Touch of Class Landscapes (also of Northumberland) began building a retaining wall across the street. Joe Hayter walked over and invited A Touch of Class president Jim Kadryna to look at their problem. A Touch of Class had worked on a similar project. Kadryna promised them "a plan that would work."
A few days later Vickie and Joe approved "a beautiful plan" which included grading and terracing, tied into a series of segmental retaining walls (SRWs), with "details down to indicated plantings." According to Jim Kadryna, the Hayters' goal was simple: "How do we get back more of our yard to use?"
Kadryna presented the Hayters with different choices of segmental retaining wall systems that could do the job. Despite limited previous experience with the product, he felt the most confidence in the StoneWall® SELECT® retaining wall system.
Joe and Vickie Hayter said "go." A few weeks later, in mid-June, the project began.
While the Hayters' untrained eyes were on the surface, Kadryna was concerned with underlying issues of soil stabilization and soil mechanics. The job wasn't quite as simple as it looked on the surface!
Clay-based soils around the pool site were weak and raised questions about the stability of wet, saturated soils and the possible future effects of lateral water pressure on the pool's structure.
Another issue was a 6' foot elevation drop from the pool grade to the house. Kadryna knew the job could be handled mechanically with a single wall, but knew a more gradual series of terraces, steps and walls would be "a lot less hefty-looking and a lot more gracious-looking."
Kadryna's plan called for terracing the large patio area around the pool, using three different strata of retaining walls, connected with walkways and steps. Walls were from 24" to 48" high depending upon where they were located on the slope. Steps were integral to the structure of the walls, using wall blocks for risers and wall caps for treads.
Where run-off threatened the pool's stability and the water's cleanliness, Kadryna designed a swale and a 24" wall. The wall and associated grading were highly functional, directing run-off away from the pool. At the same time, the wall provided attractive poolside seating.
The most difficult issue was creating strong support for the pool's apron and the paver-lined patio without compacting weak clay soils close to the pool. Compaction had to be avoided for fear of damage to the pool's liner. But Kadryna knew that the uncompacted soils would settle over time and would almost certainly damage the apron and patio and also create lateral pressure on both the pool liner and the retaining wall.
Kadryna's plan called for removing poor quality soils and backfilling and compacting areas near the pool with selected soil materials, including crushed stone.
In areas nearest the pool, where water pressure and compaction issues were of most concern, Kadryna created innovative ways to ensure stability by tying a layer of geogrid into the retaining wall and also into pool deck supports. Fifteen 4" concrete pipes were sunk 5' into the ground through the geogrid at 4' intervals and filled with concrete to provide rigidity and stability.
"That wall wasn't going anywhere!" says Kadryna.
Kadryna says function always comes before aesthetics with retaining walls: a weak wall is never an option. But he says, "A wall that doesn't combine functionality and good looks serves neither the landscaper nor the homeowner."
StoneWall SELECT was chosen first and foremost because of its mechanical strength and flexibility, but also because "it had a nice, clean and natural appearance, came in a variety of colors and would require little or no care. We used warm brown blocks because they looked natural and looked right with mature trees nearby."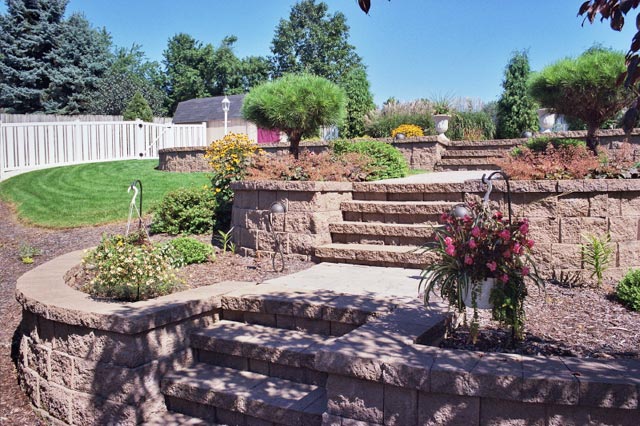 A Touch of Class's Kadryna liked the strength and flexibility StoneWall SELECT's stackable mortarless construction provided in the face of frost-heaving in cold Pennsylvania winters, as well as the system's ability to work with water and compaction issues. He also liked StoneWall SELECT's fast, easy installation and ICD's detailed installation information (available on their website at www.selecticd.com), which helped speed his learning curve.
The project, begun in mid-June, was finished by early August. It involved installation of almost 5 pallets of StoneWall SELECT blocks, providing 550 sq. ft. of wall surface, provided by Central Builders Supply Co., Sunbury, PA.
Shortly after the initial project was completed, Kadryna and A Touch of Class were called back to the Hayters' yard. It wasn't a problem; it was an opportunity to solve a previously unresolved issue. Hayters had been able to acquire a parcel of land just above their property, allowing A Touch of Class to re-grade the area above the pool, directing groundwater runoff into a stormwater catch basin, further reducing saturated soils and water pressure problems. Another week on the job "allowed us to cap off the project perfectly," Kadryna says.
Jim Kadryna: On Estimating and Pricing the Job
"Pricing jobs fairly yet profitably is essential to satisfying the customer and to staying in business," say Jim Kadryna. "A lot of landscapers are artists, but they don't always know their costs or how to accurately estimate the number of hours different activities take."
"One rule of thumb is that a long, low wall is a relatively expensive wall. Getting in the first course of blocks is expensive; there's more excavation and leveling per foot in the base, and not much height to make up for it. Narrower, taller walls are usually less expensive per sq. ft.; there's less foundation work and the higher courses go up faster. That works until you get to about 4 feet or so. Then geogrid comes into the picture, and that's always more expensive."
"Once excavation and compaction are completed, and the first course of blocks is in, an experienced, skilled two-man crew can build about 600 sq. ft. of SRW in a day, using the Stone Wall SELECT system."
"In my area, wall construction is about $15/sq. ft., including materials and labor. That's roughly 20%-30% each for block, labor, overhead/profit, and other materials like crushed stone and drain tile. Some work, like building stairs is slower and putzier, involving cutting and fitting. It takes about 40% more time, so I figure stairs at $21/sq. ft."
"Some costs have to be separated from the direct cost of wall building. the wall. For instance, on the Hayter's job, we excavated an area about 10' wide by 80' long by 3' deep, and replaced clay soil with select soils. That's 88-89 cu. yd., at $15 cu. yd. for excavation, cost of select soil, trucking, compaction, etc."
"We estimated the total job at 270 hours, including 100 hours for excavating, compaction and actual wall construction. We came in at 101. Nobody's perfect!"
"What were the other hours for? Like most jobs, this job was about more than just retaining walls. We installed the patio, fences, lighting, paver walkways and plantings. And there are always things like final grading, grass and clean-up."
If you're a full-service landscaper, the wall may be the impetus to the homeowner, but there's usually much more to the job than just a wall."
Jim Kadryna is president of A Touch of Class Landscapes, a full-service landscape design and contracting firm, located in Northumberland, PA. Founded in 1995, A Touch of Class Landscapes completed 57 landscaping projects in 2003, including 12-15 jobs which included retaining walls. In 2001, the company expanded to include a retail floral and gift shop. In 2003, a full-service garden center was added.
Kadryna is a graduate of Pennsylvania College of Technology, an affiliate of Pennsylvania State University. He holds a B.S. in Technology Management, as well as degrees in Landscape Management and in Interior and Floral Design.