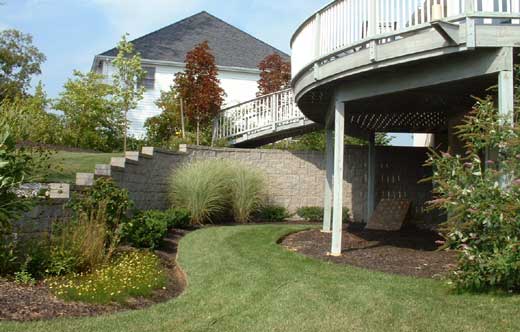 The corner lot at Summit and Mountainview in Mt. Laurel, New Jersey was one of the last lots left unsold of around 300 lots in the Ravenscliff subdivision. Chris Calderbank and his wife Michelle lived nearby and passed it often. Chris thought the lot had a lot going for it. It was on the highest point in Mt. Laurel, and on a clear day, you could see the Philadelphia skyline, 30 miles away. He thought it had the potential for a dramatic house and yard.
He also knew why the lot had been passed over again and again. The site presented a lot of potential design and construction problems to be solved. Steep slopes would make construction difficult and require some innovative design of both the yard and the house.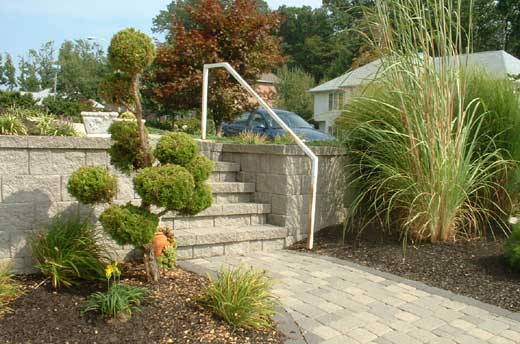 He called his long-time friend Dave Scott, a skilled and innovative landscape architect and a partner at Laurel Oak Garden Center in nearby Medford, NJ. "It was a neat opportunity. It's rare that a landscape architect gets to work on a site and make recommendations this early in the process. I had already worked with the Calderbanks, on their other house and I knew our sensibilities were in sync."
There were many issues to deal with in creating a functional and aesthetically pleasing plan for the house and property. Among them:
where the house and three-car garage should be sited on the lot;
placement and grading of the driveway, walkways and front door access;
placement of exterior stairs and steps;
how to increase access and usability in both front and back yards in spite of a "steep and deep" 10'-12' change in grade from the front to back of the lot;
how to find room for a free-form deck and a walk-out basement and patio.
All these issues required a combination of hardscaping and softscaping, including excavating and removing 175-200 cubic yards of soil in the back yard, extensive grading and designing and building a retaining wall. In the front yard, a 6' drop with a 40+ degree slope had to be mitigated with a 30'x 6' retaining wall, and steps constructed for access from the driveway to the front door.
The architect designing the house suggested a concrete block wall covered with stucco for the back yard because it mirrored a stucco finish on the house. Dave Scott of Laurel Oak was concerned about how the wall and stucco finish would hold up under hydrostatic pressure and the earth movement that comes with cold New Jersey winters.
Scott preferred a segmental retaining wall (SRW) constructed of StoneWall® SELECT® blocks (ICD Corporation, Milwaukee, Wisconsin), strengthened with layers of geogrid. He says such a wall is exceptionally flexible and durable, and requires no maintenance, telling homeowners "that wall will be there long after your house falls down." And the StoneWall SELECT materials came in a variety of earth tones which complemented colors planned for the house's exterior, yet had a rough "hewn stone" natural look.