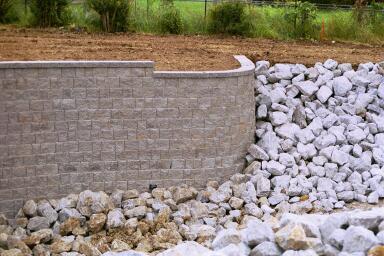 Like several other drainage channels in Tupelo, the Lawndale Drainage Channel usually carries some water. Most of the time the water is just a trickle of runoff from neighboring homeowners watering their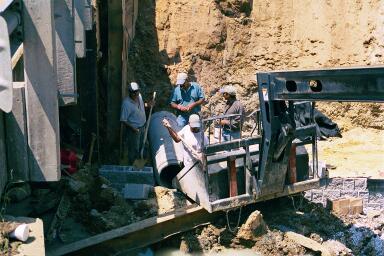 lawns or from a normal rainfall. But a heavy summer thunderstorm or rain swirling north from a Caribbean hurricane can quickly turn the channel into a raging torrent of fast-moving water. Protecting the banks from severe erosion during heavy storms as quickly as possible was a high priority. Doing so without taking the busy bridge out of service was an even higher priority, Davis says.
The City of Tupelo hired Rutledge Construction of Tupelo to execute and manage the overall job, including excavation, grading and landscaping. In turn, Rutledge subcontracted construction of the new retaining wall to Con-Terra Construction Co., Fulton, Mississippi, a company with extensive experience in building retaining walls, and especially segmental retaining walls (SRWs).
Plans called for an SRW 112' long and 10' tall, with over 1,700 sq. ft. of surface area, incorporating 6 layers of geogrids to stabilize the bank and provide rigidity.
A segmental retaining wall made a lot of sense, says Con-Terra partner James Glasgow: "An SRW is a very permanent solution; it's as much 'forever' as any product can be." And, adds Glasgow, SRWs do a superior job, usually for less cost to build and maintain than either wooden or reinforced concrete walls. According to Glasgow, Tupelo also has sought to improve the appearance of their drainage channels, and the more pleasing look of SRWs "fits right in."
Con-Terra recommended the new wall be built using the StoneWall® SELECT® retaining wall system, from ICD Corporation in Milwaukee, Wisconsin. Con-Terra had previously used the system in similar drainage projects in Memphis and other cities. Glasgow describes StoneWall SELECT walls as unusually strong, easy to build and "among the most attractive products on the market."
In February 2003, after Rutledge had removed debris from the failed wall, Con-Terra began building the wall, working in the rock-based drainage channel. Says Glasgow, "Time was a big issue. We needed to get in lower courses of blocks and geogrids and strengthen and stabilize the bank before a deluge came along and washed away our partially completed work. It wouldn't have been the first time that happened to us. We knew we were in a race against the clock."
The first step was construction of a cofferdam to divert the normal flow, and keep the work area as dry as possible. The cofferdam did its job, but it also made relatively tight working space even tighter, and as Glasgow says, "it wouldn't have protected us against a really big storm."
"We really hustled. We didn't use any unusual construction or material handling techniques, but we needed to manage the project carefully and we really needed to have our logistical 'act' together. We had to have materials where they were needed, conveniently placed, when they were needed, and not have any hold-ups that would slow us down."
These demanding conditions made it essential that the wall system they used provide not only strength and stability, but that it also be as fast, simple and easy as possible to build. One way construction was speeded was through use of the StoneWall® SELECT® retaining wall system.
"An SRW made of StoneWall SELECT blocks was exactly the right choice for this project," says Con-Terra's Glasgow. "It gave us:
A very permanent retaining wall that will last just about 'forever' and that requires no maintenance;
A warm, natural look that enhances the neighborhood, and meets Tupelo's goal of improved aesthetics;
A more effective solution at a lower cost than either wood or reinforced concrete. It was about 20%-25% less than concrete and 30%-50% less than a treated wood and H-pile wall."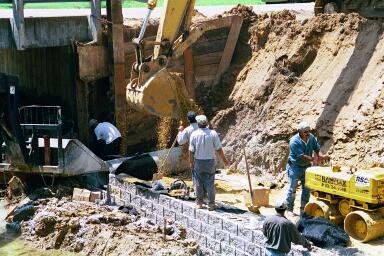 StoneWall SELECT is a system of high-strength, stackable and mortarless concrete blocks, designed to look like natural stone. The system is designed to go together quickly and easily. Less excavation for footings is required than with reinforced concrete walls. Multiple courses of blocks snap together quickly and securely with a patented clip-positioning system that automatically ensures strength, flexibility and a built-in 5-degree wall batter. No mortar or specialized expertise is required.
StoneWall SELECT blocks have hollow cores that were filled with crushed rock for strength and positive connection between course of blocks. When used with geogrids StoneWall SELECT provides a superior facing system for strong, stable walls as high as 40', even under rugged conditions. Pullout and shear capacity tests have proven that StoneWall SELECT's hollow core system provides superior block-to-block and wall-to-geogrid connections.
On the Lawndale project, the StoneWall SELECT system proved as fast and easy to assemble as expected. According to Glasgow, the blocks are "a little lighter than some others and that makes them easier to handle and position. They lock together fast and provide a very strong connection, unlike some blocks which have pin connections which become constricted in casting or fill with debris. And its positive connection with geogrids was important to us since we installed nearly 1,000 square yards of geogrids."
The job was completed by the end of May, 2003, in time to be in place for summer thunderstorms and the later hurricane season in the Gulf of Mexico.