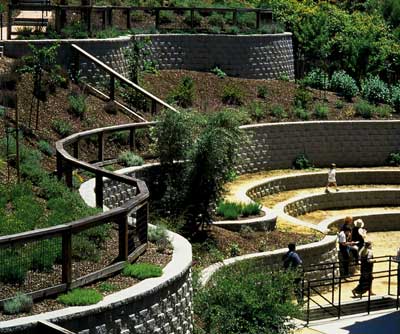 A child walks on the amphitheater seating as others enjoy Potrero Heights' park-like setting; which includes edible plants such as pomegranates, lemons, kumquats, and avocados, as well as drought-tolerant ornamentals.
Potrero Heights uses 600 linear feet of curving StoneWall SELECT walls to carve out a significant amount of useful space from a narrow site which drops sixty-five feet — fulfilling Jeffrey Miller's aim to, "Make use of every square inch of landscape space."
Miller felt that, "Design flexibility and constructibility were the primary considerations for choosing the StoneWall SELECT units. This segmental retaining wall system allowed us to make use of this difficult site in a way that is both functional and pleasing to the eye. The size of the unit allows complex layouts, such as the curved walls required by this design, to be easily constructed. Using StoneWall SELECT retaining walls adds an additional level of interest to the site." The scale blends beautifully with the residential community which the gardens serve. Miller created an amphitheater, with some of the walls providing seating, while preserving a sense of intimacy.